For Health Professionals
Poison centre staff give health-care professionals evidence-based recommendations for their patients, including acute-care-management guidance, as well as other questions related to poisoning and ongoing medical care. The centres can also draw on advice from their on-call physicians who are knowledgeable about toxicology.
Who we help
We get calls from:
Paramedics in
ambulances
Pharmacists at
their dispensaries
Family physicians
in their offices
Physicians in
hospitals
Medical staff in
emergency rooms
Health and safety officers
in manufacturing plants
How we help
Our front-line staff of specialty-trained registered nurses and pharmacists provide advice on poisoning to other health-care professionals, regardless of where they work or their setting. Involving a poison centre and their experts in a poisoning case results in:
More efficient resource utilization in the medical system
Decreased length of stay in hospital for the patient
Pan-Canadian Poison Centres Annual Reports
Annual reports present data from all five Canadian poison centres and highlight the critical role of these centres in poison prevention efforts. The reports are released by the Canadian Association of Poison Centres and Clinical Toxicologists (CAPCCT), Health Canada and Parachute, Canada's national charity dedicated to injury prevention.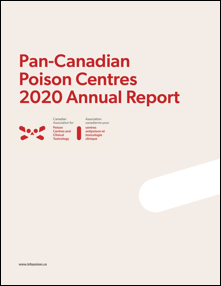 Reporting of incidents and concerns
Health professionals are encouraged to report adverse reactions and concerns about products. By reporting, you help identify potential safety issues, identify previously unrecognized, rare or serious adverse reactions, prompt regulatory actions and improve health product safety for all Canadians.
Report adverse reactions
Report adverse reactions to health or cannabis products, even if you are not sure if a particular product was the cause.
Report a medication incident
Report medication errors, including near misses.
More information about adverse reaction reporting for specific products in Canada
Membership
Individual
Fee $100 /year
For the person who works in, or has an interest in poison centre activities and/or care of the poisoned patient
Institutional


Fee $400 /year
For an organization in which four or more professionals work in, or have an interest, in poison centre activities and/or care of the poisoned patient
Membership inquiries should be directed to the Secretary-Treasurer.
Secretary-Treasurer
Ms. Anna-Leah Desambrana
c/o Ontario Poison Centre (OPC) /
Centre Anti-poison de l'Ontario
The Hospital for Sick Children
555 University Avenue
Toronto, ON M5G 1X8
Email : secretary@infopoison.ca
Connect with Toxicovigilance Canada
Toxicovigilance Canada is a trusted pan-Canadian network for intelligence, collaboration and situational assessment on drug, poison and chemical exposure events to inform timely action on poison prevention, treatment, harm reduction and management of risks associated with toxic exposures of public health concern.
The network's more than 400 members include poison centres, provincial toxicology laboratories, public health and regulatory agencies, health and safety/security authorities, Non-Governmental Organizations, and other key stakeholders. The Toxicovigilance Canada Collaboration Centre is hosted on the Canadian Network for Public Health Intelligence (CNPHI), an online platform enabling collaboration and consultation through innovation in disease surveillance, research, and response to protect, promote, and support public health.
Contact hc.toxicovigilance.sc@canada.ca to join.
Becoming a Certified Specialist in
Poison Information (CSPI)
Both Registered Nurses and Registered Pharmacists are eligible to become CSPIs. There are no specific courses to become a CSPI: Below describes the typical process to obtain the CSPI designation.
Obtain employment at a poison control centre (there are five across Canada, and 55 in the U.S.). Depending on the centre and the competition for the job, no prior toxicology experience may be necessary, but your knowledge and skills as a pharmacist, and other knowledge and experience (being able to talk to people in crisis; knowledge of chemistry and products for household cleaning, car maintenance, gardening) are definite assets
Work a specified number of hours and handle a certain number of poison cases at a poison control centre
After two or more years, write the CSPI exam administered by the American Association of Poison Control Centers
If you pass the exam, you can use the designation "CSPI"
More professional resources
Additional supports and resources
Select international associations or societies